BLÁITHÍN ENNIS
Bláithín Ennis is an original, unique and contemporary brand. The label is affordable and beautifully designed, incorporating simple, traditional and craft driven techniques inspired by her natural surroundings in coastal Ireland. Her studio sits along the coast of Ireland's Ancient East. The Irish designer focuses on cutting-edge handmade jewellery and couture large scale body pieces.
A graduate of Textile Design from the National College of Art & Design in Dublin, Bláithín launched her own eponymous brand soon after graduation. Bláithín prides herself on her ability to source, manipulate and combine unusual materials from around the world to produce wearable, special and striking jewellery designs. Her fresh use of experimental materials and offbeat aesthetic, has garnered her a devoted following at home and abroad.
Bláithín's pieces are the result of innovative, exclusive techniques and craftsmanship using whimsical shell mesh as her primary aesthetic, combined with mixtures of robust metals and sparkling crystal. Her award-winning creations represent the 'unconventional' in jewellery design. 
Her brand has received tremendous support from premium Irish retailers. Brown Thomas, of the Selfridges Group, have selected her work as part of their prestigious CREATE showcase for the past five years. Her jewellery has been worn by pop royalty, television presenters, singer songwriters and top models. Nicole Scherzinger, Cheryl Cole, Vogue Williams, Una Healy, Kathryn Thomas, Rachel Stevens, Roz Purcell to name but a few...
MY JOURNEY.... 
 Within a year of graduating from a BA in Textile Design at the National College of Art & Design in Dublin, I went about setting up my own label 'Bláithín Ennis'.  It all began when I was invited to participate in a Christmas design fair. It was my first experience showing to the public and it was here where I saw the true potential of my creations. Having wonderful industry experience with New York based designer Diane Von Furstenberg, I launched my first collection to the Irish marketplace at the end of 2012. 
I'm absolutely passionate about creating a quality, innovative brand for my customers who appreciate design and the handmade item. I'm based from my studio with my loyal, dynamic team in the South East of Ireland, where every piece is designed and handmade.  
AWARD WINNING JEWELLERY 
It has been an incredible honour to have received these prestigious awards:  
Jewellery Category Winner 2022 
Irish Made Awards
Jewellery Designer of the Year 2014 
Irish Fashion innovation Awards
Best Established Business 2014
Ireland's Best Young Entrepreneur
Outstanding Achievement Award 2015
Civic Honour, Municipal District.
Irish Designer of the Year 2016
IBA Awards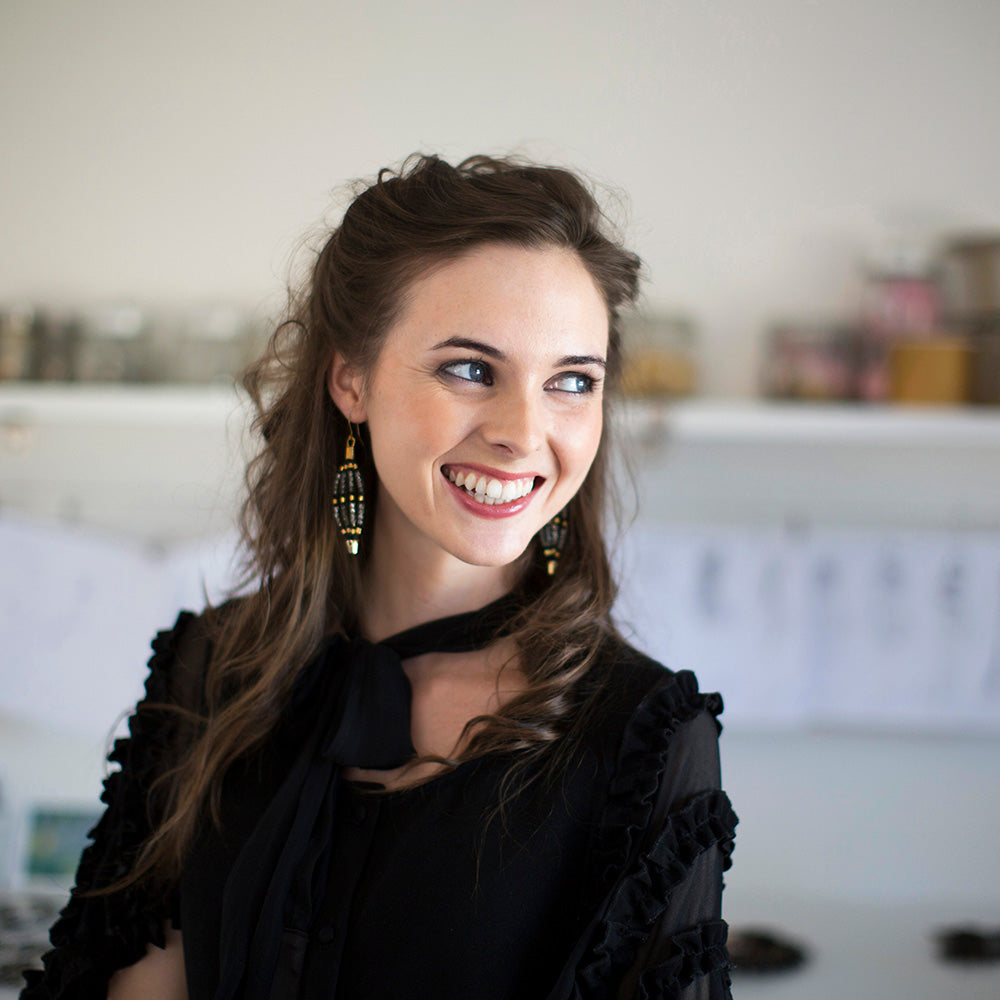 Dublin
Brown Thomas, Grafton Street
Arnotts, Henry Street.
Fran and Jane, Blackrock
The Guiness Gallery, Foxrock
Cork
Pure, Douglas
The Wardrobe Boutique, Mitchelstown
Waterford
Anchor Boutique, Clifden, Co. Waterford
Cliff Design, Dunmore East, Co. Waterford
Hibernian Gifts, Bolton Street, Waterford
Beibhinn, Parade Quay Waterford.
Wexford
Place, Gorey
Westgate Design, Wexford Town
The Forge, Baldwinstown
Town & Country, New Ross
Walter Bourke, Enniscorthy
Galway
My Shop Granny Likes it, Abbeygate Street.
Down
Space Craft, Fountain Centre, Belfast.
Cherry Pic, Newry
Sligo
The Cat & The Moon, Castle Street.
Mayo
O Reilly Turpin, Westport
Leitrim
The Leitrim Design House, Carrick on Shannon.
Monaghan
Walnut Grove, Monaghan Shopping Centre
Kilkenny
Kilkenny Design Centre, Castle Yard
Tipperary
The Design Atelier, Nenagh.
Westmeath
Red Earth, Mullingar.
The Handmade Design Studio, Mullingar.